Amouage - Gold Pour Homme (1998):
My bottle of Vintage Amouage Gold Pour Homme
As you may have notice I have not been writing as frequently lately, if you are a university student or are a parent to one you will understand that it is currently our exam study period. So I thought I'll write a review before I go off to exam study for a week or two. The scent I will be reviewing today is Gold Pour Homme by Amouage.
The house of Amouage a perfume house created by the sultan of Oman in 1983, by his Highness Sayyid Hamad bin Hamound al bu, who had a dream to restore the great Arabian art of perfumery to the region.
Guy Robert
Amouage perfumes are known to be luxurious, of very high quality, and with immense dosage of perfume oil concentrations in their creations, as well as the scary price tag that comes with it. Amouage utilizes traditional Middle Eastern ingredients in their perfumes, unusual to the Western world previously, such as agarwood (oud), incense, musk, spices, and colossal amounts of florals.
The first Amouage fragrance is Gold Pour Femme, the Pour Homme version that I am reviewing came 10 years after the female version. It was composed by Guy Robert, who had also worked for Dior, Rochas, and Hermes previously. This is a very unique scent with colossal amounts of animalics and foral notes with a woody base.
Presentation:
Current Presentation
Originally presented in a very luxurious, avant-garde and traditional Arabic styled bottle that looks some what like the handle of a dagger (see picture above). Now it is presented in a more conservative rectangular gold bottle with the same style of lid.
The imagery that I get from this scent overall would be an Arabic king, like the Sultan of Oman him self. An opulent and undiluted combination of dirty animalics and flamboyant florals, something that you would picture a powerful Arabian smelling like.
The Scent:
Initially looking at the liquid in the bottle, it is so thick!, doesn't even look like water/alcohol!, looks more like oil..... and this is the vintage EDT that I have here....you will never have to worry about the quality that you pay for when you buy Amouage.
Arabian Feast
Upon spraying I get an overload of musky floral notes which composed of a very dominant combination of rose hip and jasmine waltzing away, with lily of the valley in the background sitting by her self waiting for a partner. The animalics which includes civet and musk are not as strong here yet but can still be detected. Just imagine it as a celebratory feast inside a smoky room inside the palace of an Arabian sultan, smogs of warm musky incense swirled across the interior of the room along with the intense aura of florals radiating from the perfume of women entertaining the kings.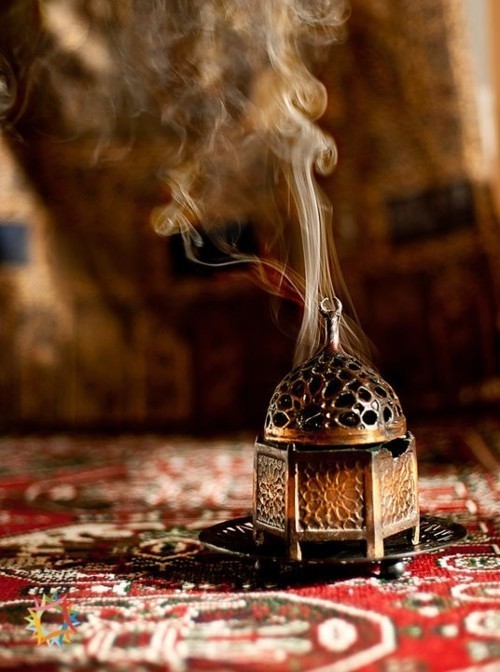 Musky Incense
Arabian Dancer
The animalic component radiating from the body heat of guests, dancers, the fur and leather trimmings from their elaborate costumers. Hundreds of spices and woods diffused their fumes, and joining the others scents in a great Arabian dance ball of aromas, an invisible party of their own, only observable through he nose.
About 45 minutes in, the scent doesn't change much except for the fact that it gets more animalic, the civet and musk really amplifies here. It just makes me imagine the dirty, sweaty female dancers of the party getting up close and personal next to the sultan, and of course he is enjoying it. Floral, musky and animalic, a very intensely unique combo.
Painting: Hans Zatzka
The perfume lasts on me over 10 hours, and even after a shower I can still smell the civet (pee like smell) on me. The scent pretty much doesn't evolve much from the mid notes, it just gets more and more animalic and less floral as time goes by. I am not sure about the modern version using synthetic animalics, if it will be this animalic or last this long or not. However mine is the vintage and I am sure that they still used real animal ingredients in this one.......one time while wearing this, I went to play with my neighbor's dog who is normally very friendly towards me, this time he growled at me..............So I figured...It must be the civet in the Amouage Gold on my wrists!
I would say this is not an every day scent, I rarely wear it, it's a special occasion scent for me especially for the price tag. If you do not like unorthodox scents, animialic scents, or very strong perfumes, I would not recommend this to you. This is a very very strong and unorthodox perfume, I might even attempt to say that it is more floral than your average male perfume and not every guy can pull this off. I love Amouage Gold Pour Homme very much and will definitely be buying more of their scents in the future, the quality is undeniable.