Chanel - Gardenia (1925):
My mother's bottle of Gardenia bought in the U.S, 1980's
Ernest Beaux
Chanel Gardenia is a transparent white floral perfume with leading sheer notes of gardenia, tuburose, and jasmine. It was released in 1925, originally, and was re-released again in the 1980's as part of the Chanel Les Exclusifs line. Gardenia was composed by the legendary Ernest Beaux, whose creation also included some of Chanel's most iconic fragrances No.5, No.22, Cuir De Russie, and Bois Des Iles.
Camellia, a Chanel Emblem
Mademoiselle Chanel loved Camellias, one of her emblem, yet the Camellia has no scent. So the idea of this perfume came when Chanel saw that Gardenia resembles the appearance of Camellia but also has a sensual and well-defined aroma. Gardenia was traditionally used to scent tea in countries such as China and India, and also symbolizes harmony, love, sensuality, and grace.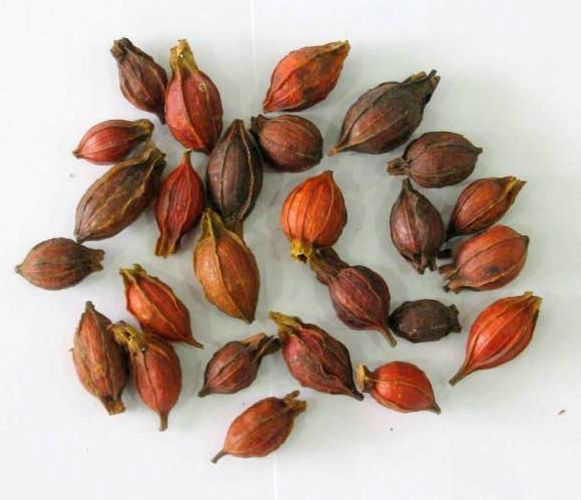 Dried Gardenia Fruit used in Chinese Medicine
If you ever have a Gardenia tree in your garden you will notice how fragile it's blossoms are, even just a gentle touch from the human hand can bruise their plump velvety white petals. Countless attempts had been made to extract the natural essential oils of the Gardenia, however none had been successful. Chanel and Beaux created this scent using synthetic compounds, considered very modern and advanced in the 1920's, as well as natural oils of orange blossom, jasmine, and tuberose (Compounded together to resemble the scent of Gardenia).
The modern and vintage version of Gardenia can be considered quite similar due to the restrictions of raw materials hardly affecting the ingredients of this scent. I have both the vintage and modern Eau De Toilette and I can confirm that the differences are very subtle. Main difference would be longevity, vintage lasts a lot longer and also seems more concentrated (perhaps the reason for the yellow juice).
Presentation:
Parfum Version
Currently available as an Eau De Toilette (75ml & 200ml) and Parfum (15ml), as part of the boutique only Chanel Les Exclusifs line. Presented in the Chanel elongated bottle with a magnetic cap for the EDT, while the Parfum comes in a beautiful classic square Chanel bottle with a crystal dabber. The vintage version that I own comes in the regular elongated Chanel bottle with a screw cap.
The Scent:
Scorching day ahead.
First of all I would like to say that Chanel Gardenia is a very feminine scent, I find it super hard to imagine a man pulling this off. It opens with a very transparent and crystalline, crisp, clear, refreshing note of Gardenia. Imagine sitting on your porch on a scorching summer day, no clouds in the sky, not even a gentle breeze can be felt, the world seemed to have stood still. You are surrounded by shrubs of Gardenia, their aromas are uplifted by the heat, soon you are surrounded by the hazy and ghostly miasma of their essences. A beautiful smell indeed, very different from sniffing the Gardenia right from it's bloom, where it can get quite thick and nauseating.
Creamy, Velvety, Suede-like Gardenia
Within only 15 minutes the initial euphoria that you are experiencing from the opening notes becomes disrupted as it vanishes leaving behind .....well almost nothing. I have to really put my nose right up against my skin to smell anything now, and yet I still have a difficult time detecting the scent. The vintage version at this point still stayed strong and turns really creamy and delicious, with Coconut and Jasmine now exposing themselves from underneath a curtain of Gardenia. This is when you are now enjoying your morning tea, iced jasmine and gardenia tea, with coconut macarons. Creamy, delicious, and simply divine.
Chinese Gardenia Tea
I honestly cannot give a review on the closing of this fragrance except the fact that it gets more musky over time but still a transparent fragrance. The reason is, it never lasted long enough for me to test it out, it seems to disappear not long after the creamy mid.
It is a beautiful scent, especially if you like white flowers but find that most perfumes that are white florals are usually too strong for you. This would be the perfect choice. The longeivity and silage are quite poor, which is a shame for such an expensive perfume.
Would I buy it? No, I am sampling the modern EDT from a 4ml mini, while the vintage belongs to my mother. I find that for it's price it needs way better longevity and there are many other fragrances that smells similar that you can get for only a smell fraction of the cost of this one. Try Kim Kardasian by Kim Kardashian for example, or Elizabeth Arden's Gardenia.....both are similar yet costs WAY WAY less.