Guerlain - Coque D'or (1937):
My bottle of Coque D'or, some slight wear to the gilding.
The Opera - Le Coq D'or
As my fascination with all things vintage grew, I began especially hunting for vintage perfumes and their avant-garde flacons. Guerlain, one of the most historically fascinating and also one of the oldest perfume houses in the world has caught my attention. Since buying my first Guerlain perfume "L'heure De Nuit" I began to fell in love with the house and began searching back into their archives, their eye catching flacons and amazing scented history bewitched me. Smelling a vintage perfume simply takes me back in time, a scented time machine.
Jacques Guerlain
Today I will be reviewing one of the scents within my vintage Guerlain collection, called "Coque D'or", which literally translates into the English word "Golden Shell". It was a play on words based on the 1907 opera "The Golden Cockerel (Le Coq D'or)", by Rimsky-Korsakov as stated by Grace Hummel of Cleopatra's Boudoir. Composed by Jacques Guerlain, Jean Paul Guerlain's grandfather, in 1937, Coque D'or is a dark, boozy, woody, and slightly gourmand chypre perfume with an oriental vibe.
Presentation: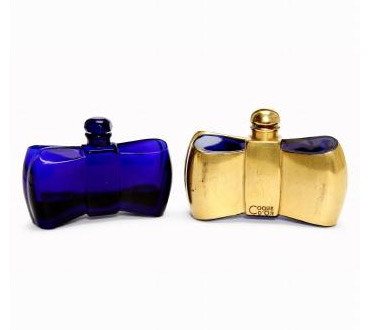 Un-gilded and Gilded
Coque D'or came in a variety of Guerlain flacons (Quadrilobe, Amphore, and Goutte Flacon) but I will be focusing on it's original bottle. An art deco style blue bow-shaped bottle produced by Baccarat Cristalleries and also Pochet et Du Cova. The gorgeous cobalt flacon is available gilded with real gold or un-gilded, the bottle was gilded from 1930's to mid 1940's, after that it was only available un-gilded. Tragically the gilding factory was destroyed during World War II. The unique and artistic flacon design was discontinued all together in 1956.
With the wooden box
According to Grace Hummel of Celopatra's Boudoir, the bottles are contained in two series of boxes. The first series of flacons are luxuriously presented in a wooden presentation cased made of limed oak wood. For the less expensive second series, the box was made out of paper which imitated the appearance of wood.

The Scent:
Coque D'or reminds me of a mature, wealthy, and influential woman with a strong and firm personality. She likes to make a statement and does things her way, she does not like people crossing her path nor does she like being say "no" to. I apologize for comparing this wonderful vintage to fictional characters but they are a really accurate way for me to describe the scent, think Cruella De Ville, The Evil Queen, Ursula the Sea Witch and Lady Tremaine for example.
"Its Cruella Darling!"
In the opening when first applied I detected a grandiose and opulent brew of boozy peach, candied orange, spicy clove, and oak moss. A smoldering, fumy, and delectable opening with a gourmand touch.
Madame De Ville
Cruella De Ville flamboyantly struts into a Parisienne pub wearing her signature fur coat, her heavy make up, Robert Piguet's Bandit and smoking excessively.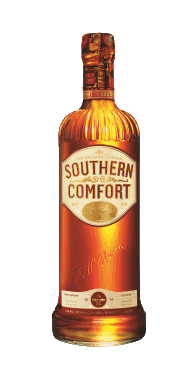 Southern Comfort
The moment she entered the venue, gentlemen all gazed at her, their jaws dropped. Creulla commanded their attention without even having to do a thing. Shots of envious gazes can be observed fired across the room from women accompanying the men, green with envy as the saying goes.... Creulla, a rich and independent madame, ordered a glass of Southern Comfort, a liquor consisting of spice, fruits, and whiskey, with a wedge candied orange.
The sweet and acidic citrus quality from the candied orange metamorphosed effortlessly with with the peachy, spicy and boozy quality of the Southern Comfort. Intermingling with the mixture are cigarette smokes as well has the dark mossy and leathery chypre quality of her perfume, Bandit. Yes I believe the opening of Coque D'or resembles a blend of Bandit mix with either vintage Mitsouko, Arabie by Serge Lutens, or Femme by Rochas, all of which have a spicy, sweet, boozy touch to it.
Jafar, Cruella's Date
About 45 minutes into the application of Coque D'or, the spiciness and boozyness of the aroma settled down into a warmer, sweeter, more comforting and floral compound. Roses and Carnation becomes quite identifiable while the spicy-sweet and boozy opening remains to be quite prominent.
Madame De Ville, sitting by her self enjoyed her drink, most gentlemen are too intimidated by her wealth, success, and personality to approach her. Suddenly a mature gentleman wearing a turban, the slickest Arabian silk gown , and smoking a pipe approached Cruella with a bouquet of carnation and roses. It was her date of course, the one and only Mister Jafar, her Arabian love interest, she buried her face into the bouquet to catch a sniff of the flowers ,trying to exclude any of the other interfering smells around her. The flowers smelt lovely ....... spicy carnation and classic, feminine rose, the scent of her Southern comfort, bitter dark-green perfume and cigarette fumes still managed to be detected though, intertwining with the florals to create a sort of mature dirty floral smell......real classy.....or not ...... or is it ?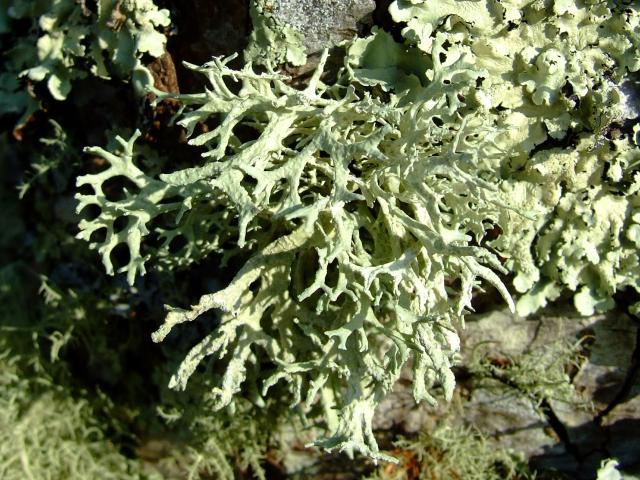 Oak moss
Towards the end of the perfume's life, about 8 hours, The floral component fades slightly as well as the spicy-sweet and boozy opening, both are still however clearly detectable. The leather and sandalwood base really starts to shine here, giving this scent a slightly animalic and heady finish.
Quite a beautiful scent after all and really made me imagine the story I had just attempted to tell using Disney villains.
An Advert of Coque D'or
Would be absolutely beautiful to wear during winter. Since this is a vintage and quite rare to come by, I really do believe that a good substitute for Coque D'or would be Femme Rochas, it's really quite similar and really does have the same boozy-sweet, warm and leathery structure.
Current version of Mitsouko, I find far too weak and not viscous enough to compare with Coque D'or. Serge Lutens Arabie is not too similar except the opening of it which has a similar oriental candied, dried, spiced fruit quality to it which I've been trying to describe.
Also please note the perfume I used to test is very old, as you can see the bottle all scratched up above, and therefore some elements of it may not smell like other people's samples or how it's composer meant for it to smell.... I am telling them based on my own sample and how I personally perceive the smell.