Fidji - Guy Laroche (1966):
My beautiful bottle of Fidji + flower from my garden :)
Today, I had the pleasure of finding this perfume at a chemist store I walked pass while in the city for an affordable price.....I grabbed it of course! Being only $45 while the cheapest 100ml on the internet was over $70 not including postage yet.
Ad of Fidji
Prior to that I have only smelt Fidji once, from my mum's old bottle that accidentally squirted into my mouth and left me with VERY flowery breath for hours. I also read about Fidji online and in perfume books having only heard good things about it, I am glad I finally get the chance to review it.
Fidji to me is a green-woody perfume with a powdery and mildly sweet floral undertone. The scent was composed by Josephine Catapano in 1966, the name Fidji stands for island country "Fiji", where one of the managers of Guy Laroche had a vacation, which was the main inspiration for this scent. Notably, this is the first ever and also one of the most successful fragrance that the house of Guy Laroche released.
Presentation/Imagery:
The Island of Fiji
Fidji, A far away, tropical, and pristine island, sun shining bright, you lay flat on the sand, relaxed as ever, as currents of warm sea breeze carrying scents of tropical woods and flowers surrounds you. Comes presented in a minimalistic, classy, and simple clear glass bottle with a black lid. The packaging had not been updated and remains the same since it's release.
The Scent: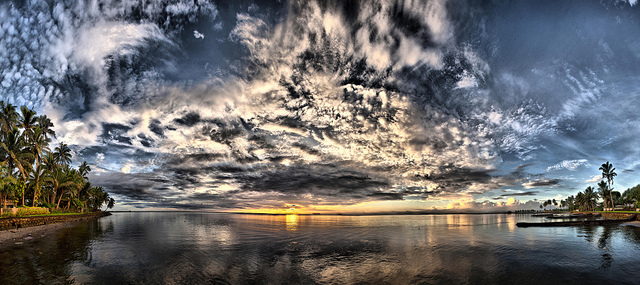 Fijian Sunrise
Opens with a bright green combo, reminiscent of an island sun rise, the first fresh breath of air you inhale when you wake up that morning. It's that morning after landing from that exhausting and extremely long flight the night before. The new-found scenery is not what you are used to back home, where it's currently winter --- gloomy, dark, wet and freezing. You feel like you are in another dimension filled with happiness, endless horizon of oceans and cloudless sky, warm pristine air, and a sun that seems to shine on for eternity, "Fiji is indeed, heaven on Earth", you whispered. Galbanum, lemon and bergamot gives this perfume an intoxicatingly sparkling opening while hyacinth gives this fresh opening a deep, oily, floral tint.
Hyacinth, a dominant flower note. Painting: L.McCoy
About 35 minutes of wearing this perfume I began to be able to sniff out the heart notes. A spicy and warm floral compound of rose, jasmine, iris, ylang-ylang and some bitter oak moss in the back ground. Looks like it is now mid-day, the sun is scorching and right up in the sky, radiating it's warmth and joy to the world. Your morning island air has just gotten more radiantly hot.
A cheerful Sunset.
Towards the end of this perfume's life, about 7 hours, the scent gets woodier, as the floral essences fades and the warm woody base of sandalwood, amber, orris root, and clove take over. This is the type of feeling of warmth where you are comfortable as well. . . . Think of warm fireplaces and a comfy sofa, Christmas family gatherings , a feast maybe, just very warm and comfortable. Perhaps this is when you are sitting at a Fijian BBQ party, the sun is on it's way down but the beach is still as warm as ever. The scent of sizzling spices radiates deliciously in the air, mixing with the aroma of scented woods used to heat up the BBQ and the occasional whiffs of florals being carried by the wind that traveled through the woods nearby.
Sun rise, Sun set
I think it is fitting to compare this scent to the 3 stages of the sun - rise, noon, set, because the scent really does seem to behave in this fashion while I was wearing it. I think this classic perfume is very impressive. Lasts 7 hours + on my skin for an Eau de Toilette, green and refreshing as well as being woody and floral, perfect for all seasons. I also find that when my skin is warm (Summer perhaps), the florals - creamy jasmine in particular can be noticed a lot more easily and gives this scent an exotic and feminine touch. While when my skin is cold (As in Winter), the woodiness shines a bit more, giving this scent a slightly more masculine edge. I would say it is unisex either way, just like some other similar scents such as Silences, No.19, and Vent Vert, marketed for women but also just as suitable if worn by a man.
I would love to visit Fiji!