Kerosene Perfumes:
My Kerosene Sample Pack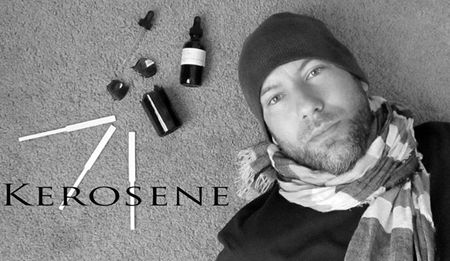 John Pegg, the nose and founder of Kerosene
A relatively new and independent perfume house created by American, John Pegg, aka Kerosenetrewthe on YouTube, a former fragrance reviewer. Really great quality and unique fragrances, you will definitely not smell like anyone else on the streets! The name of the house was inspired by John's former job working with motorcycles, which drew unusual scents such as dirt, grease, oil, blood, plus his love for unorthodox aromas of trees, earth, stamped steel, gasoline, plastic, and the earth.
His motto for his creations consists of 3 things - rawness, uniqueness, and approachability. His bottles are hand painted with premium quality automotive paint and clearcoat, which resulted in a shiny, metallic, and rustic looking perfume bottle.
Signed sample box set
I ordered a sample pack consisting for all of John's creations except the most recent "Black Vines". I've been testing these scents on and off for the past year, to make sure I know them all relatively well. All perfume sample vials came nicely packed in a neat little black tin and hand signed. You can order any of his fragrances or a hand signed sample box set from ...
The House of Kerosene
.
All scents are Eau De Parfum in concentration and costs $140 USD which includes free shipping globally.
Quick Overview of the Scents:
R'oud Elements (2011):
Middle Eastern Spice Market
The first perfume to be released from this house
.

It is a citrusy-oud fragrance with warm and comforting touches of amber, sandalwood and vanilla added. Opens with a very unique deep, rich, and sweet combo sharp citrus and oud, slightly animalic as well in my opinion. About 30 minutes into the application the citrus settles, the oud, sandalwood and vanilla amplifies giving the scent a spicy-woody aroma, and a velvety and silky texture

.

Towards the end the amber further warms up the aroma as the top and heart notes blend together smoothly.

Unisex, and makes me think of being in a smoky middle eastern spice market while nibbling on some succulent orange wedges in the smouldering heat. Lasts a good 8 hours on the skin, a strong silage.
Creature (2012):
Cool blast of lush, green minty freshness
A soothing, green, aromatic, and VERY fresh scent, you can actually feel something cold when you first applied this scent. Opens with a violent blizzard of mint and cyprus, with gentle breezes of jasmine and birch whispering about. About 15 minutes into the application the cyclone of super chilling green mintyness settled down as oakmoss, cedar, and birch make this scent a touch warmer and more well rounded.
Stays relatively settled and similar throughout the application except visibly more floral in the end. Reminds me of standing in a wide open grass field as a crisp, artic cyclone approaches and then passes you by, with you being in the middle of it all, unharmed, just letting all the cooling natural essences of all the greens that nature has to offer take over your body.
Re-invigorating, re-charging, fulfilling and up-lifting your senses entirely. This could have been a signature for if it lasted longer, because in just 2 hours the scent disappears and became difficult even when my nose is right up at my wrists. More like an Eau De Cologne. Yet it's still my Top 3 despite longevity issues.
Whips & Roses (2012):
A leather whip of roses!
Probably would be my top 3 from this house along with Creature and Pretty Machine. As a leather fan and also a fan of green floral perfumes like No.19, my god! this scent is perfect! I am a little bit shattered that John also recently discontinued this scent for reason I have yet to find out. Whips & Roses, a green and slightly powdery rose scent with leather elements.
Opens very green, fresh and floral almost identical to the smell of a freshly cut rose. Bitter green and fresh hints coming from the stems and thorns while the floral aura from the bloom it self, a gentle leather accord can be detected in the opening. 30 minutes into the opening, the lush greeness mutate into a more powdery sort of green as the Iris starts to shine.
The leather also becomes prominent at this point, compounding wonderfully with the powder-green florals giving a sort of leathery, kinky, but floral smell. The leather you get here is a sort of new and shiny leather reminiscent of PVC. Makes me think of a leather bondage party in the middle of a rose garden. Lasts about 4-5 hours with good silage for the first 2-3 hours.
Fields of Rubus (2012):
Hansel & Gretel and the Candy house in the woods.
A sweet and fruity vanilla and patchouli duo, like Hansel and Gretel finding a house made of mouth watering candy in the woods. Little did they know there is something dark and sinister lurking behind the colourful and innocent image.
Opens quite rich, sweet and slightly gourmand with prominent notes of patchouli, tobacco, raspberry and plum. Sweet and fruity like the candy house with a darker tone of dark green patchouli and opulent tobacco lurking underneath the foliage of sweets. Mid way about 30 minutes into the application, the nectarous jammy elements of fruits still dominates along with patchouli and tobacco, however softened and creamier a bit as musk and vanilla becomes stronger.
Towards the end cedar and sandalwood contributes to the delectably dark fruity scent giving it a touch of warm woodiness. The witch had invited Hansel and Gretel into her candy house, the fire place is red hot, little do they know that she is planning to roast them alive soon enough. Lasts a good 6 hours on the skin with moderate silage.
Wood Haven (2012):
A dried and long forgotten piece of wood
Wood, wood, and more wood.... I wouldn't be telling the truth if I told you I liked this one. I don't hate it but I also don't really like it either. You have to be a true lover of pure wood to love this one, smells like a freshly sawed plank of wood.
Opens with a terrifying slap in your face combination of ginger root, vetiver, citrus and black pepper, an earthy, VERY spicy, and slightly citrusy opening.
Becomes more woody and less medicinal as the opening notes settle down, as the tar-like smokiness of Guaiac Wood becomes more dominant. Gets spicier towards the end as pink pepper and black pepper continued their shooting rampage, while you see no stop to the dominance of ginger root and vetiver either. As suggested on Kerosene's home page,
this scent is reminiscent of wood doused with spices and left in the Gobi desert to be long forgotten. Go for it if you really want to try something more challenging and very un-conventional.
Unknown Pleasures (2013):
Drawing by H.Groat II
Mmmmmm............. freshly baked Lemon Meringue Pie topped with toasted coconut, served with Honey and Caramel Latte on a chilly winter morning. What a perfect start to warm up and brighten your day! ... Um......and also pile on the pounds ....hmmm.
That was a short and simple way for me to describe this scent. In the gorumand opening I can detect a mouth-watering, tummy-grumbling combo of lemon, caramel, coconut (even though not listed as an ingredient), and honey. About 40 minutes into my wearing I detect the smooth and spicy quality of tonka bean, the vanilla and honey also gets warmer and stronger. I guess that's the moment when you take the first sip of your freshly served honey and caramel latte, after waiting a while eating only your meringue.
The citrus here lasts surprisingly quite long, it remains a prominent composition of the aroma of this scent from start to finish, honey, caramel and vanilla also stayed strong and noticeable. A well made scent, excellent quality, longevity (8+ hours) and silage. Highly recommended for gourmand lovers or if you are looking for a distinctive scent to wear during the cooler months.
Santalum Slivers (2012):
Grandma's Citrus Conserve
A woody citrus with hints of floral. Opens with a smooth and creamy combo of oranges, lemon, grapefruit, rose and mild sandalwood. It's like the smell of the warm kitchen of a wooden hut during autumn when grandma is making home-made citrus conserve. There is a giant vase of rose on the counter top, sending its aroma across the room to waltz along with haze of citrusy goodness from the stove and puffs of woodiness from the interior of the cozy kitchen. The heart of this scent gets more rosey and sweeter, I can also detect weak whiffs of musk and some pepper. The perfume gets more powdery and slightly more woody towards the end, where cedar wood breaks through to dance with the rest of the notes in a ballroom of aromas. An interesting powdery citrus scent, not your typical fresh citrus scent. Lasts about 7 hours with moderate but noticeable silage.
Copper Skies (2012):
A Chinese Natural Medicine Shop, Macau
Have you ever been to Chinatown and gone into one of those "Chinese Natural Medicine Shops"? This is almost exactly what Copper Skies smells like! As spicy-sweet and rich fragrance with dominant notes of clove, amber, and tobacco. Opens with a hazy smog of clove, sweet tobacco, and lukewarm amber, just like the sweet-spicy air of a Chinese herb medicine shop.
Settles down a bit within about 20 minutes and the sweet spiciness becomes reminiscent of dried Chinese plum. Towards the end the woody quality of cedar and the chunky animalic quality of the Bee's wax comes through which tones down the spiciness a bit and to me, makes the scent more pleasant to wear. More suited for cooler days, a longevity of around 5 hours, moderate silage.
Pretty Machine (2013):
Sweet, nectar-filled citrus blossoms
This scent signifies spring, a favourite of mine from this house, and a truly exceptional quality citrus-floral. This reminds me of spring and I am standing in a

field filled with citrus trees (orange, grapefruit, and lemon trees) with their blossoms in full bloom, the sun fully up and bright, with a gentle breeze sweltering about, mixing and swirling the concoction of these citrus blossoms in the air.
Pretty Machine opens with a clean, crisp, and refreshing whirlwind of orange blossom, Neroli, Linden Blossom, and Jasmine. So well crafted and smells just like how these flowers would with the mid-day spring sun full heating them up, nectar oozing and dripping waiting for the butterflies and bees to come take their rewards.
Gets a little bit of musk in the mid notes as well as notes of orange, grapefruit, and lemon being detectable underneath the inflorescence bed of blooming flowers. It is very difficult to find a citrus blossom scent that has a good silage and also excellent longevity. Neroli and Linden blossom being some of my favourite notes and this scent being an exceptional representative of that while also lasting over 8 hours makes it my favourite!