Guerlain - L'heure De Nuit (2012)
My 1st ever bottle of Guerlain, L'heure De Nuit
Thierry Wasser, current head perfumer of Guerlain
In 2012, Guerlain celebrates L'heure Bleue's 100th anniversary and Thierry Wasser, Guerlain's head perfumer, decided to create his own interpretation of L'heure Bleue to celebrate it's success over the years. The result was a powdery and musky purple floral perfume called "L'heure De Nuit". Wasser modernized the legendary L'heure Bleue and presented her as a more youthful, up lifting, and gourmand scent.
L'heure De Nuit is available at all Guerlain boutiques and selected Guerlain counters as part of the Les Parisiennes collection. A collection consisting of exclusive re-issue of fragrances which Guerlain had discontinued in the past but have bought them back at the request of many grief-stricken fans.
Guerlain Les Parisiennes Collection, elegantly presented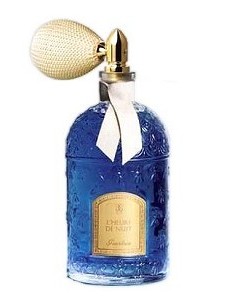 Puff atomiser attached
Hard to believe but I was not a Guerlain fan when I first started getting into this hobby, and now it's probably my top 3 favourite brand. I did not even know much about this house except for the fact that my grandmother and aunty has tonnes of perfumes from this brand, so one day whilst fragrance shopping, I stumbled pass a super classy and beautiful bottle at the Guerlain counter. I picked it up and smelt the scent and really liked it , I was told that this will only be available for a limited time, so without thinking much more about the scent (which I like but did not love yet) I bought it straight up, just because the bottle is so stunningly beautiful. It also comes with a puff atomizer, which I think all perfumes should come with !! They look way better than the sprayer !
Since buying L'heure De Nuit (my first ever Guerlain fragrance), I had been a massive Guerlain fan and had since spent way more money than I should with them. Also I've constantly been on the hunt for their rare and limited edition fragrances. Which led to me having a massive shelf filled with only Guerlain products. Like it's been said " If you love one Guerlain, you will most probably love them all" ......its all about their secret ingredient, the Guerlinade! (More on the Guerlinade in future posts)
Presentation:
Comes in a hard paper Guerlain box also containing the puff atomizer
L'heure De Nuit is available as a 125ml eau de parfum and comes in Guerlain's famous bee bottle (Flacon Abeille). A puff atomizer also comes with the purchase and can be used when you prefer to spray fine mists of perfume instead of dabbing it on. The juice is coloured in a deep, dark, melanholic glow of indigo suiting of the perfume's name. Overall a very sophisticated, chic, and elegant presentation both the bottle and box represents nothing but class. Upon request you can also purchase this scent in larger quantities and have the option of getting it in gold gilded bee bottles at Guerlain ,68 Champes Elysees, Paris.
The Scent:
Violet Sky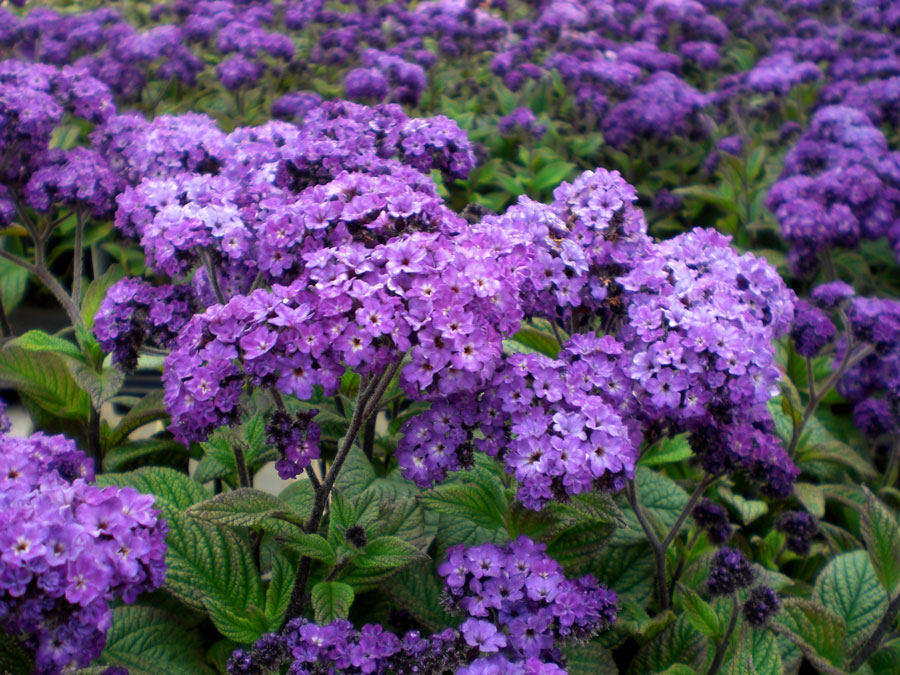 Heliotrope
What a lovely fluffy, musky, powdery purple floral scent, there is something undeniably purple about this scent, just sniffing it alone makes me think of purple. The scent opens with Heliotrope and Iris being the two dominant notes, hence the "Purple floral" label. Inaudible whispers of orange blossom and musk can be heard from a distance. I am imagining a late-afternoon picnic in Paris, the sun is on his way down giving the sky and fluff of clouds the most bewitching shade of violet. You are with your lover, it is quite nippy as night time approaches, yet you had never felt so warm and happy. In front of you there is a cup of freshly brewed bergamot infused tea and a platter of crumbly vanilla and almond tarts. In your hands you are holding a purple bouquet of flowers your lover had bought for you which consisted of the most divine selection of Heliotrope and Iris.
Iris by S.Badger
You can smell the clean-powderiness quality of Heliotrope mingling with nuances of viciously-powdery Iris. On top of that you detect hints of the vanilla and almond tart and bergamot infused tea as well as your lover's musky cologne intertwining magnificently with the alluring concoction of purple florals from your bouquet.You inhaled the heavenly compound of essences deeply as you tilt your head back, gazed up at the amethyst sky, and try to capture that moment of joy forever.
By C.Wolfe
About 40 minutes into the application the scent becomes more gourmand, sweet and powdery. Iris and Heliotrope had now finished their lead chorus in the choir but are still singing, while musk and orange blossom takes over as the next lead vocalists with Sandalwood singing back-up. This is the part where you had awaken from your blissful momentary day-dream and start to take bites of your vanilla and almond tart and sips from your cup of steamy bergamot infused tea with the flowers on your lap still radiating pulses of their aroma.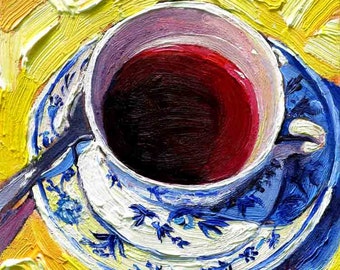 Tea, painting by J.Gems
Towards the end of the perfume's life which is about 6 hours, Heliotrope and Iris stays moderately dominant throughout the wearing while at this stage the hazy musk and delicious orange blossom are now just as dominant as the purple flowers. The sandalwood is now quite visible but it's existence is still quite vague. You are finishing up the last of your afternoon tea and trying to enjoy the last few hours of daylight with your lover, at this point someone is nearby is burning firewood to keep warm, giving off a sweet woody aroma, a perfect finish to a sensational afternoon.
Vanilla-Almond Tart
I think this scent is mouth watering sweet but in no way is it sugary or fruity like generic celebrity perfumes. Lasts on the skin about 6 hours, which is not too long for an eau de parfum costing nearly $300. A nice scent to have if you are looking for a polite, gentle and youthful floral perfume that smells delicious and unique from the others, or if you love L'heure Bleue and Insolence,I would also recommend trying this one out.