Christian Dior - Midnight Poison EDP (2007)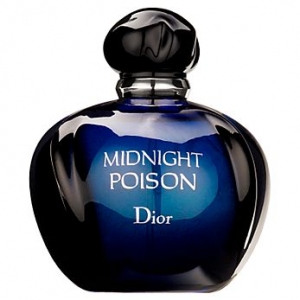 Dior Midnight Poison
One of my newly obtained scents, the only fragrance which I own from Christian Dior's Poison collection and also sadly recently discontinued.....
Olivier Cresp
Midnight Poison was composed by Jacques Cavallier, Francois Demachy, and Olivier Cresp,
it is a gorgeous, dark, delicious, and seductive fragrance . This fragrance is the 5th and latest perfume to be added to Christian Dior's famous "Poison" range first released in 1985. Midnight Poison seems to be to most simple in composition yet ended up smelling better and more complex than all the other poisons released, at least to my nose. Also definitely the most unisex and masculine smelling out of all the poisons released.
Presentation:
Actress Eva Green used for the commercial
My own bottle: See that beautiful glow!?
Midnight Poison is presented in one of the most beautifully coloured bottles ever! There is something so captivating about the way this bottle look and the way it seems to glow in the most mesmerizing shde of blue it hits the light. John Galliano was inspired by the Cinderella while gathering ideas for the imagery of this perfume, therefore the mystifying colour of cobalt-ultramarine blue was chosen for the bottle, to be reminiscent of Cinderella's dress.
The Scent:
When I first spray this perfume in I thought to my self "Wow this smells so dark, delicious and deductive!", straight away in my head, I see the image of a powerful seductress who resides in a dark mystic forest, seducing any mortal males and perhaps even females.... who dares enter her territory.
Not your typical rose scent!, Dark and luscious!
Do you dare enter her lair?
Opens with a powdery, sweet and slightly citric combo of patchouli and dark, lush, intense, and alluring rose, with hints of soft but noticeable citrus.
If you do not like rose not patchouli, you will not like this perfume, rose and patchouli lingers around for the whole wearing of this perfume, while citrus and vanilla is on and off. The rose you get from Midnight Poison is not your typical bright, sunny garden rose, but a dark, mystical, sinister, and alluring poisonous rose.
Approximately 40 minutes into the application, the patchouli settled down quite nicely and is no longer the most dominant note. The citrus becomes amplified along with the rose, while the vanilla can now be noticed, sitting quietly in the corner waiting for her turn to shine.
Getting brighter and less sinister! Towards the end
Towards the end of the perfume's life about 12 hours into my wearing, the patchouli and citrus are now quite faint while the dark and velvety rose note stays prominent, and the vanilla can now be noticed, giving this scent a delicious, "You know you want me", vibe to it. I guess dawn is approaching and the powerful enchantress' power will now be weakening until night falls again.
Velvety Rose
Fantastic silage and amazing longevity, I applied it around 8pm last night and it lasted all throughout the night and still persisted when I woke up around 10am. I would recommend it and I will never understand why Dior would discontinue one of their best available scents. There are still some available on EBay (but watch out for fakes!!), and if you're lucky like me you will find some remaining stock at your local perfumery.