Review: Chanel No.22 (1922)
Mum's refillable case from the 1980's
Chanel No.22 is one of my favourite scents, very "Chanel-esque" and super classy. It is also one my mother's signature scent, if No.5 is a mature classy lady - No.22 would be that same woman in her younger years. No.22 was composed by Ernest Beaux in the year 1922 for Mademoiselle Chanel, hence the name 22. Chanel herself adored the simplicity, clarity, and modernity of this scent. Beaux is the same man who composed some of most archetypal Chanel fragrances, No.5, Cuir De Russie, and Bois Des Iles.
Parfum Bottle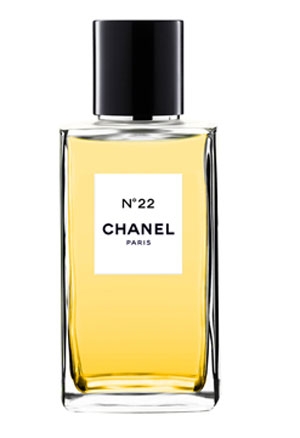 EDT Bottle
Presentation:
Currently No.22 is part of the Chanel Les Exclusifs line, available only at Chanel and Chanel cosmetic boutiques. Elegantly presented in Chanel's signature rectangular bottle with a magnetic cap, comes in 75ml or 200ml EDT. Pure parfum version also available in 15ml sizes. Refillable cases (Main picture above) and Eau de cologne version had been discontinued.
The Scent:
Serpent-like mist of Aldehyde
The scent it-self, in my opinion, is one of the finest aldehyde ever composed....Guerlain knows their vanilla and Chanel sure knows their aldehyde! Opens with a sparkling clean aldehyde top with faint pulses of powdery floral notes. Some may find this opening a little strong and "mature", I can tell you one thing....this doesn't make me picture a mature woman at all...I had always pictured No.22 as a "young woman's aldehyde". The opening is a little reminiscent of Estee Lauder's - White Linen and Robert Piguet's Baghari....but warmer with more vanilla.
Misty Garden - A.Sisley
Becomes less squaky clean and sharp about 30 minutes into the wearing as your body heat warms up the fragrance, it becomes the most elegantly immaculate interfusion of powdery flowers (ylang-ylang, jasmine, lily of the valley, neroli, and tuberose), vanilla and aldehydes I have ever smelt. A serpent-like mist of aldehyde slithers amongst a flower garden engulfing and smothering the scent out of each blossom of that she happens to glide pass and selfishly making it her own. Like a genie, No.22 is now captured in a bottle waiting for women who wants to be effortlessly noticed to release her slowly spray by spray. The mid and the dry down base stays quite linear and does not change much.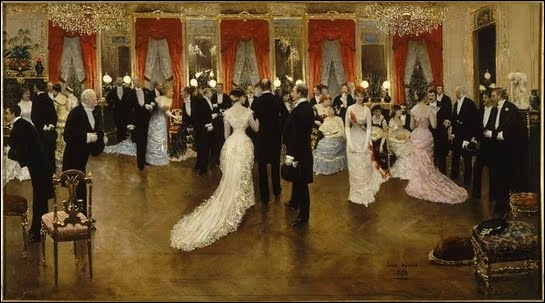 Deux femmes dans une loge, 1881-82
Here is a little review I wrote on fragrantica which I really love and will re-use here.....It pretty much sums up my perception of this scent. . . In a prestigious function hall filled with chaos and other glammed up women trying their best to draw the attention of rich gentlemen attending the costly event. No.22 is the polite and enigmatic young woman in the corner of the room dressed in a plain but classy beige Chanel dress, she the one that gets instantaneous attention without having to do a thing, or say a word....everyone notices her and wants to be up close to her. Gentlemen are drawn to her elegance, beauty and grace, other ladies with caked-up faces and over the top, avant-garde gowns gazed at her with jealousy... She doesn't even want attention but gets it effortlessly. Notice the men staring at the lady in white on the right side of the picture?
This scent is pure sophistication, a gentle and polite powdery aldehydic fragrance. It's soft....yet it has excellent silage and longevity. In EDT concentration, it lasts over 8 hours on my skin and for about a week on my clothes. Smells very unique and not very widely used these days, I can assure you will smell unique with this one. One of the scents from the Chanel Exclusifs line worthy of investing in!